meet the tribal core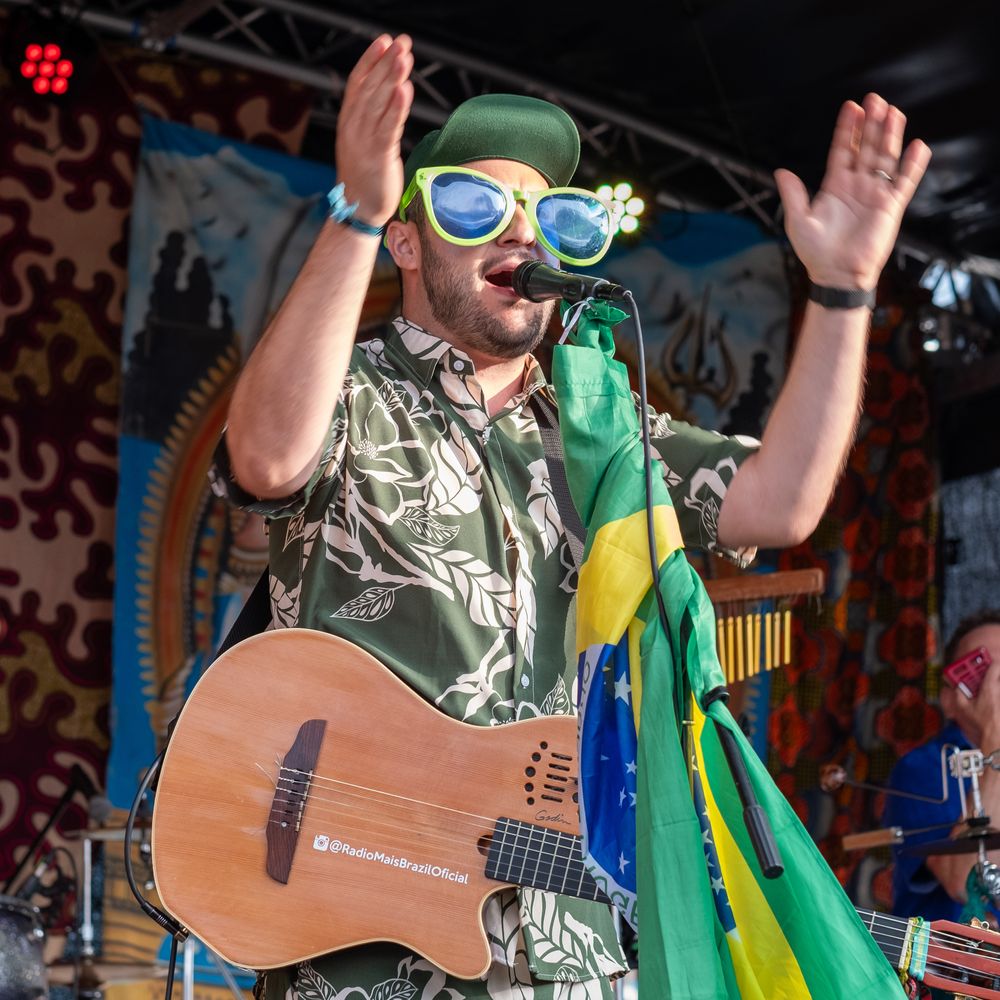 TUTO (BRAZIL) - the main man!
vocals, guitar, songwriter and musical director
From the streets of Sao Paulo to the avenues of Southampton, via Argentina, South Africa, Germany and Italy, Tuto has made England his home. The second son of a Brazilian father and Italian mother, he first learned his stage craft in the teenage punk and hardcore band he formed. Following a period playing bass for his brother's funk-reggae band, Tuto left Brazil in search of adventure, playing across Europe as a street artist, not without its challenges. Since moving to the UK in 2016, Tuto has developed his stage presence and music, became a resident artist at Revolucion de Cuba bars, connected with many musicians from which he distilled a group, forming Tuto Tribe in early 2022. Not one to shy away from a music project, he has also since written and produced a musical which was premiered in Calabria, Italy, in June 2023.
A few words from Rich: "Tuto is an incredible and inspiring performer and showman and is not shy to try stuff with any audience. His songs are memorable and a joy to be a part of. There is extrovert and then there is Tuto!"
MIKE NIK (Cyprus)
Bass
The Cypriot pirate of the tribe, Michalis Nicholaus aka "Mike Nike" started playing the bass at the age of 14. As no-one else wanted to play that instrument in his group of friends (typical approach to bass guitar), soon it became a relationship that changed his life.
 After lots of shows and an EP album release, Mike wanted to spice things up a little and moved  to Southampton, UK, for music studies and better future. 
Since then, he played venues and festivals such as The Joiners, Victorious Festival, The Wedgewood Rooms and more. He also supported big names such as The Twin Atlantic, Pete Murray and The Dunwells.
Few words by Tuto: "The way I've approached Mike was probably the rudest way  I could ever find...something like "hey, I heard you play bass? Saturday 7pm soundcheck with us..." Since that challenge, Mike has been dedicating time to Latinize his bass technique and get onto the Samba Rock groove with the Tribe. Sorry Mike for my punchy invite...glad I did it!"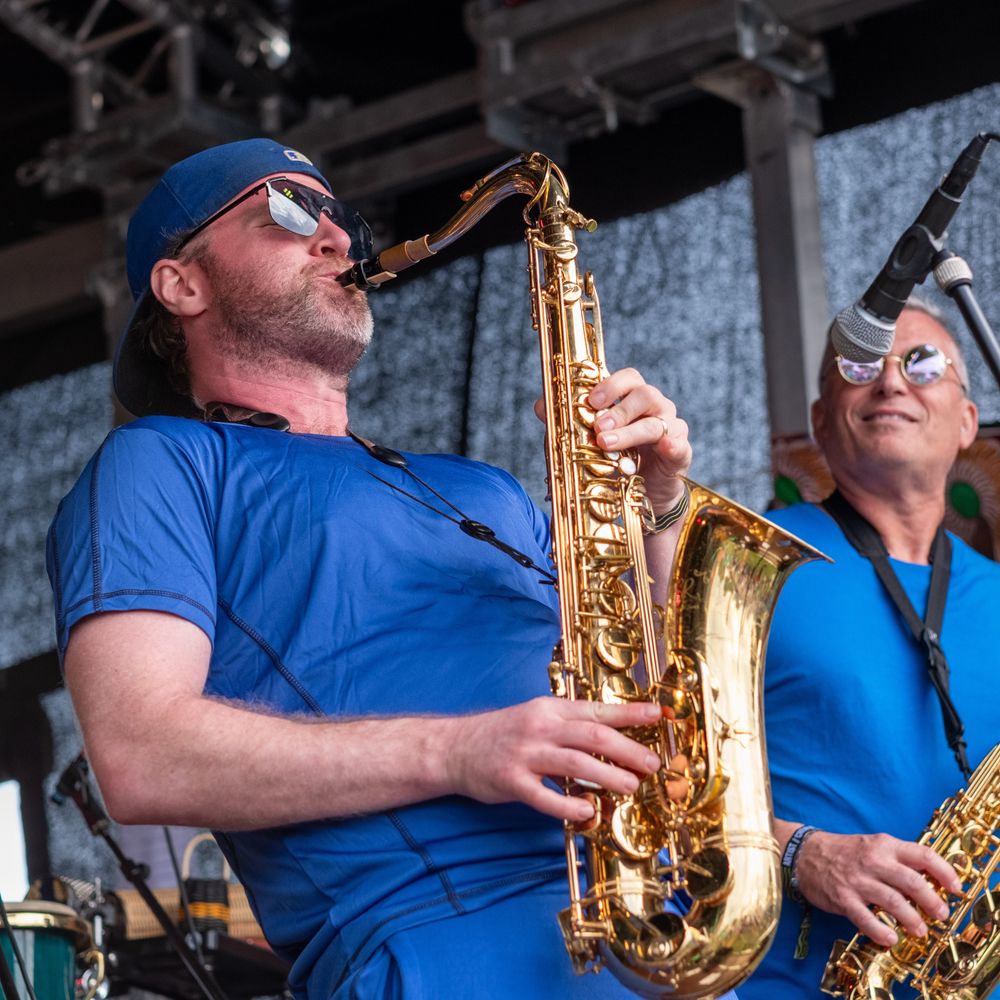 Blair Hammond (Canada)
Tenor Saxophone - and silly music quotes
Blair started with classical piano at the age of 5 through the Royal Conservatory of Music in Vancouver Canada. Upon realising that classical theory is really hard..., he promptly made a switch to jazz Saxophone during high school.
He studied Jazz at Capilano University, performing in the "A" Band and the NiteCap vocal ensemble. Still frightened of music theory, Blair has worked in cruise ships for nearly 10 years, performing theatre shows and lounge acts with musicians from all over the globe.
Played at: 2010 Winter Olympics - Vancouver and Victoria Jazz Festivals - Peak Performance Project (Vancouver) - Festivals in the UK.
Besides Sax, he enjoys podcasts, cheese, transcribing jazz solos, neighbourhood strolls (that conveniently finish at a pub), and buttered popcorn. we could say he's a little less fearful of music theory now...
Few words by Tuto: "Blair is simply the nicest Canadian I've ever met. After a jam session in early 2022 we've had a quick chat and... one week later he was already in the Tribe. He adds an awesome taste for each note, a smart mind and ear for picking up the parts on the fly and, most of all, the boy's got fire coming out of that horn!"
RICH STRANGE (ENGLAND)
Alto Saxophone - AND SPREADSHEET PILOT
Born and bred in the UK, Rich started playing clarinet in the school orchestra and jazz band, even getting onto local TV and radio. Later in life, he went to work on sales for international brands, travelling around many countries, including Brazil.
Despite being busy with work, he never lost his passion for music, freelancing at festivals and researching Music Industry trends. After growing up two beautiful daughters, and ending the second marriage (to a Brazilian lady) he sold his house and moved to Greece. There he worked as a Sailing Instructor, picked up his sax and played weekly with the house band 'Big Dipper'.
Returning to the UK, he joined 'The Sinking Brass Band', the Samba School BraSoc and later the Tuto Tribe, triggering significant musical development and vision for the band development.
Few words by Tuto: "I met Richard in 2017 and I was impressed about how much he knew about the Brazilian Culture... from that point on, Music spoke for itself =) A true British gentleman, he joined the Tribe looking to improve his Sax skills and I'm so glad to witness his development in such a short time. Today he is the Tribe's Elder and manages the band activities"
Herman ribeiro santos (Brazil)
drums and percussion - heartbeat of our samba rock
Herman is from Recife in North-East Brazil and brings both authentic and unique rhythms to the Tribe. He is the cheeky prankster of the Tribe, bringing much humour and joy. His drumming cv extends through most genres which enables the Tribe to go where it wants and his repertoire is truly amazing.
FOREVER MEMBERS OF THE TRIBE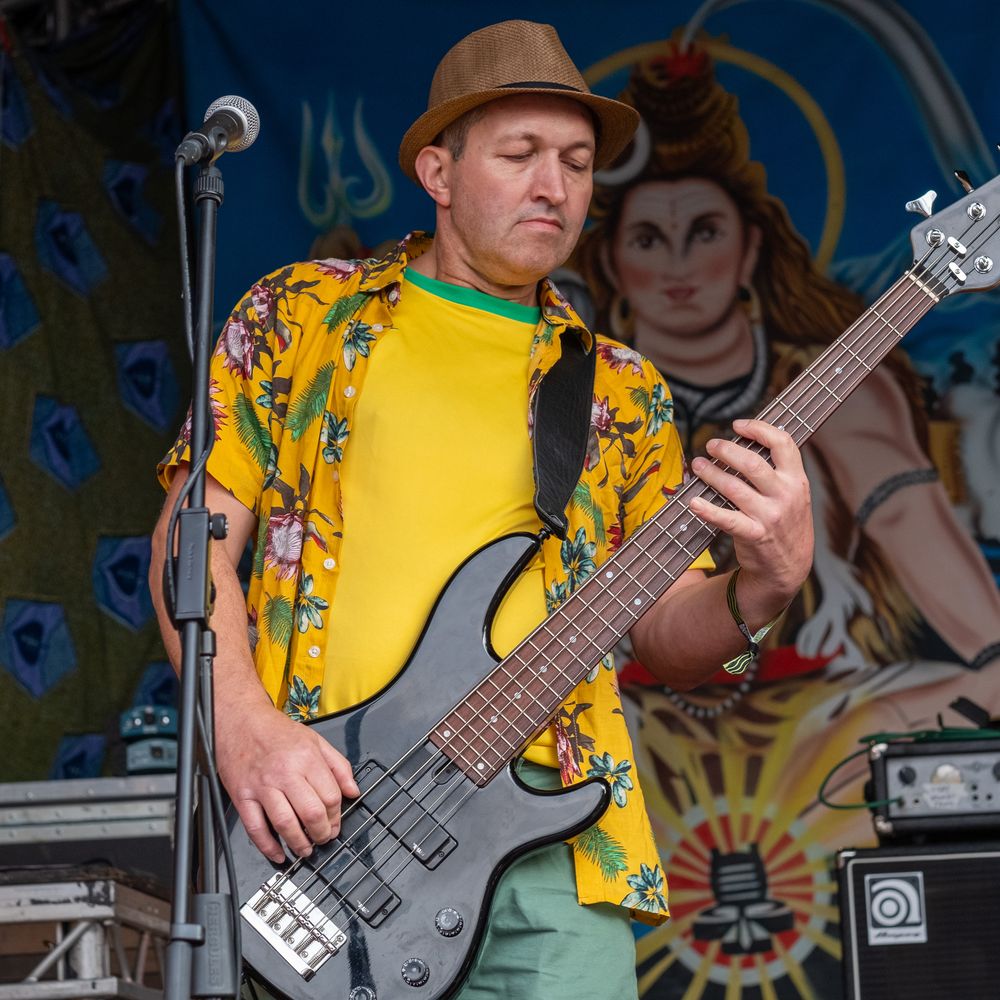 mike wigglesworth (England)
bass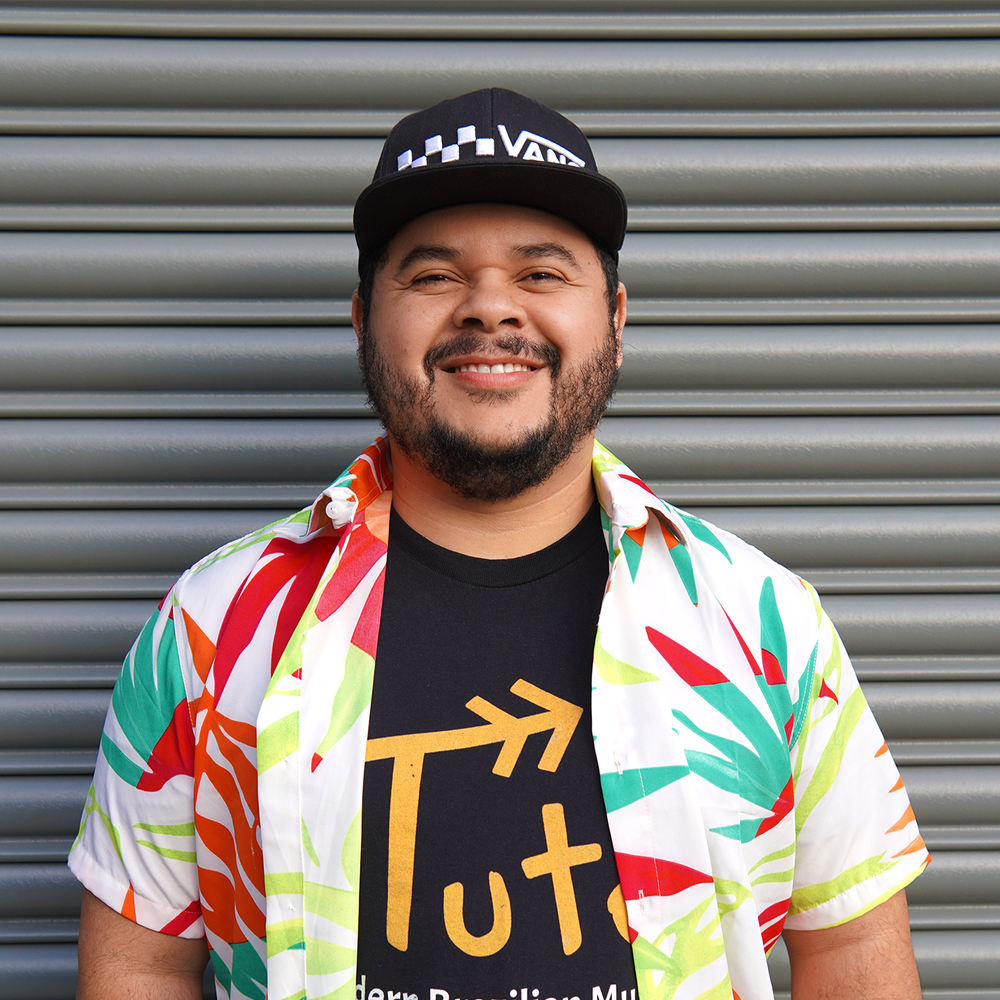 Marcio Douglas (Brazil)
Drums
Bachelor in Percussion by State University of Paraná (Brazil) endorsed by Soultone Cymbals and Collision drumsticks
Content creator with a succesful Youtube channel with more than 6k subscribers and 1M views: Drum Rockers
Played with: Maestro José Carreras (Spain) - Maestro Andrea Bocceli ( Italy) - Fred Mills (Canada) - Hermeto Pascoal -  Australian Bee Gees - Brass and Symphonic Orchestra Paraná - CW Brass - Reggae Djamborii Roots - Tukanos (Portugal) 
Few words by Tuto: "Marcio is the most humble drummer I've ever met. The first to offer help and the last to complain. Steady as a metronome, he is the heart of every "Tu-to" we sing when people beat their chests at the gigs and resonates the spirit of the Tribe"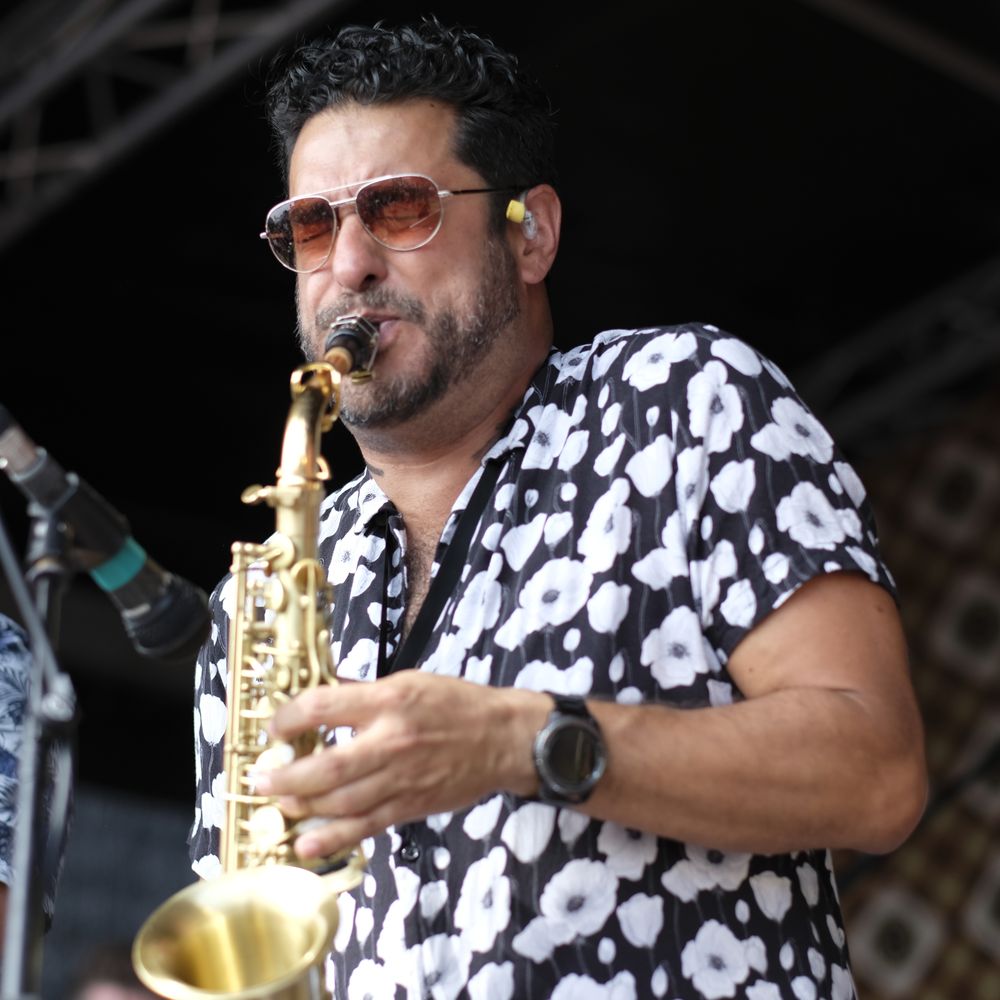 David Baron Stevens
ALTO SAXOPHONE & FLUTE
"David has been in the Tribe since 2016 when I first came to the UK. Being a true gypsy, all the way from California, travelling across the world on cruise ships, he brought his expertise in writing parts for the other horns and absolutely smashing every solo he does.
Whenever David is around this side of the world, he is a must-see, must-hear in our performances and elevates the horn section to the utter highest level. Innit homie?"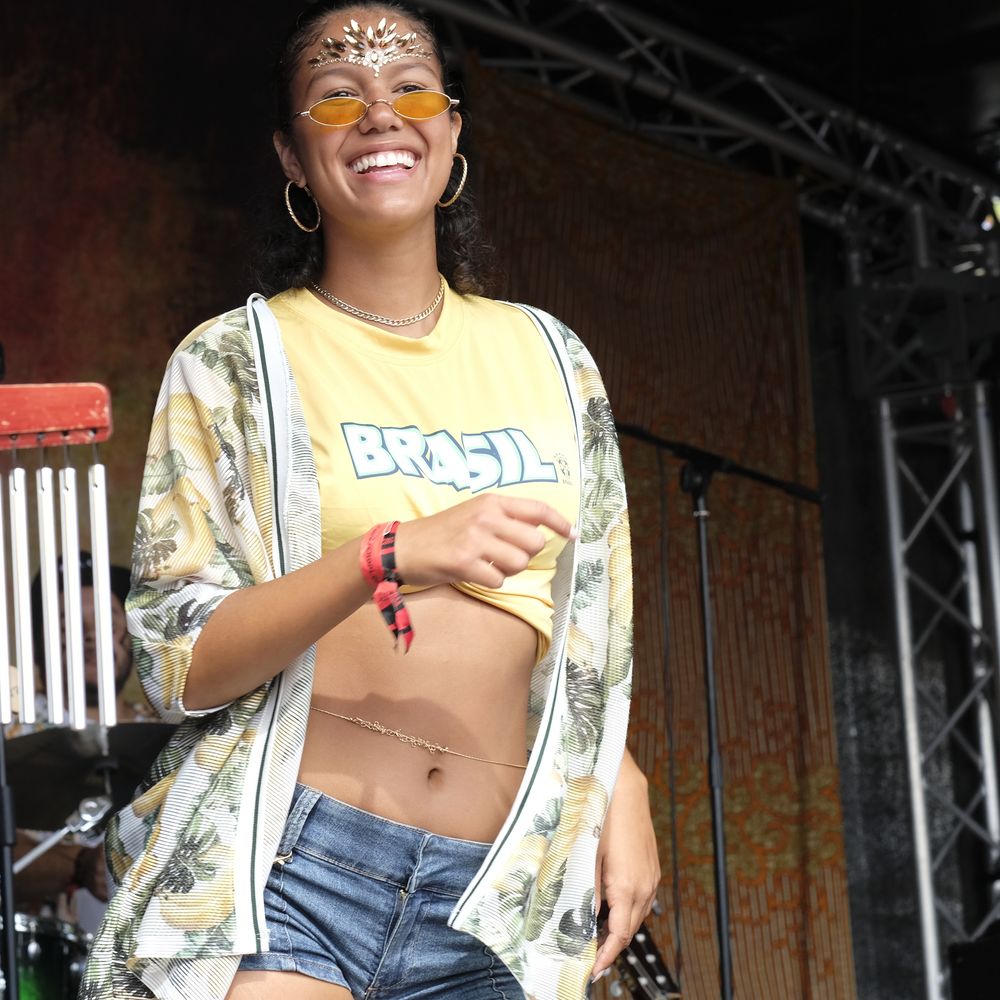 MILENA MARCONDES
DANCER
"Milena is the youngest of the Marcondes cousins. I pass her exactly 18 years...which means I am jealous!!!
Coming from Brazil to spend some time with us here in the UK, Milena has joined the Tribe as a dancer and brings her exhuberant movements and charisma to the stage (and to the crowd).
Never miss a Samba-Rock lesson from Milena =) She's the best!"
Amelia pietropaolo
backing vocals & percussion
"I met Amelia in 2014 during the Umbria Jazz Festival in Italy and I couldn't help but falling in love with such a wonderful (and bold) woman.
She has shown interest for playing Brazilian percussion after we were already living in the UK in 2016 and currently plays with BraSoc and Paraiso Samba School at the Notting Hill Carnival and other events.
Living together, I've noticed she had also a good ear and she now sings some backing vocals - mostly to keep an eye out for the lady fans..."